The League
League Rep Side
Respect
Respect is the collective responsibility of everyone involved in football to create a fair, safe and enjoyable environment in which the game can take place.
If you want to learn more about Respect Click Here to visit the Respect FC website for more information.
RESPECT LEAGUE
Pl = Players behaviour
P = games played

M = Manager/Coach behaviour

C = Effective captain

These marks are out of a possible 10 per match given by the match referee.

S/T = sub total

-2 = reduction for each Sin Bin issued.

-3 = reduction for each sending off for dissent/foul & abusive S6 Offence

Tot = total points gained

.

 

Each round of 5 matches will see an award to the top club of £75.00 with (from match 6) an award of £25.00 to the most improved club over their previous position.There will be 6 rounds - 6 of 5 matches.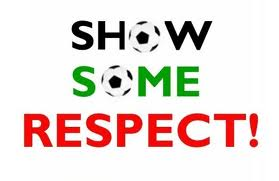 Sin Bins issued are worth -2 points and S6 Sending Offs are worth -3 (Foul & Abusive Language)
WINNERS 2017 - 2018
1 - 5 - £75.00 SHERBORNE TOWN FC RESERVES
6 - 10 - £75.00 HAMWORTHY RECREATION FC - Most Improved - £25.00 DORCHESTER SPORTS FC

11 - 15 - £75.00 WESTLAND SPORTS FC - Most Improved - £25.00 PARLEY SPORTS FC
16 - 20 - £75.00 STURMINSTER NEWTON FC - Most Improved - £25.00 HAMWORTHY RECREATION FC
21 - 25 - £75.00 HAMWORTHY RECREATION FC - Most Improved - £25.00 DORCHESTER SPORTS FC
26 - 30 - £37.50 each HAMWORTHY RECREATION FC & BALTI SPORTS FC  - Most Improved - £25.00 WESTLAND SPORTS FC